Discussion Starter
•
#1
•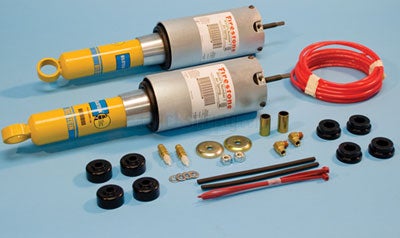 Firestone Level-Rite Air Over Shock System
Firestone Level-Rite Air Spring Plus Damper will:
* Level the front end in variable load applications - Snowplow, slide-in camper, grille guard.
* Allow control of front ground clearance - off-roading.
* Improve vehicle control and stability by maintaining constant tire, driveline and headlight alignment.
* Reduce bottoming - protective air cushion softens contact between the frame and suspension.
* Reduce suspension fatigue - prevent factory torsion bars from sagging under repeated or constant load.
Anybody going to get a set, I'm wondering if it would really help the load on the front? :shades